Outsource Global is the premier Business Process Outsourcing (BPO) company in West Africa today, but its origins required patience, perseverance, and resilience. Founding CEO Amal Hassan knew she wanted to build a company that directly benefited Nigeria, extensively researching and refusing to give up until she found the best-suited solution.
Amal knew that Nigeria had the perfect recipe for success due to its inherent advantages with an abundance of English speakers, university graduates, and an eager workforce in the midst of a population boom of over 200 million. Hailing from Kano, in Northwest Nigeria, she recognized the progressive impact she could have on her own community, creating positive channels between Africa and the other major economies around the world.
After obtaining her Bachelor in Sciences and an MA in Business Administration from the Bayero University in Kano, she went on to work as an instructor at training centers locally, working with men and women alike to stimulate their own learning. Amal opened an IT training center in Kano to enable students to acquire IT skills and broaden their job prospects.
In the words of Julie Dirksen; "Learning experiences are like journeys. The journey starts where the learning is now and ends where the learner is more successful."The center had trained over 3,000 people by 2005. The impacts of Amal's training at the center cultivated high skilled graduates with outstanding technical skills. Yet to her surprise, the graduates struggled to find jobs. She realized she needed a long-term solution to benefit these specialized potential employees.
The mission to create a profitable company required determination, grit, and focus. There was a gap between the well-educated, tech-savvy Nigerian population and the aftermath of radical terrorist groups in the region.
The economic cost of terrorism in Northern Nigeria increased between 2010-2016 with negative consequences for businesses. The impact of terrorism on emerging businesses in Northern Nigeria was dire with the daily displacement of people living on the brink. This affected the ease of doing business in the region and scared potential investors due to increasing insecurity in the region.
Faced with the challenge of setting up a business as a woman in Northern Nigeria due to ethnic and regional stereotypes, Amal remained dauntless with her goal to bridge the gap by empowering Nigerian Women through the provision of jobs and other employment opportunities.
The first attempt to found Outsource as a company was in 2009 when the national unemployment rate was at 30 percent. Amal tried to open the first office at a Kano government building but faced pressure from the unstable government and its investor structure. Just when the company was nearing completion, these logistics forced her to start again.
Amal was undeterred by the business structures in place at the time. The mother of four (two borns while she completed her university degree in Kano) greatly understood the value of patience. She had a vision of a booming Nigeria and persevered without being demoralized. There was still massive potential for growth with her undying passion to foster economic development through a growth-enabled career path for knowledgeable youths and women.
Having learned the value of not giving up, Amal started Outsource four times in a span of eight years. Moving to a new office in Kaduna, she picked up without resting her oars despite investors pulling out from her enterprise at the final stages of the launch. Abuja was her next destination on her quest to establish a sustainable business enterprise. Inspired by the impacts of Outsourcing in India and its effect on their economy, Amal Hassan founded Outsource Global in 2016 to leverage the readily available resources unique to Nigeria in terms of skilled manpower.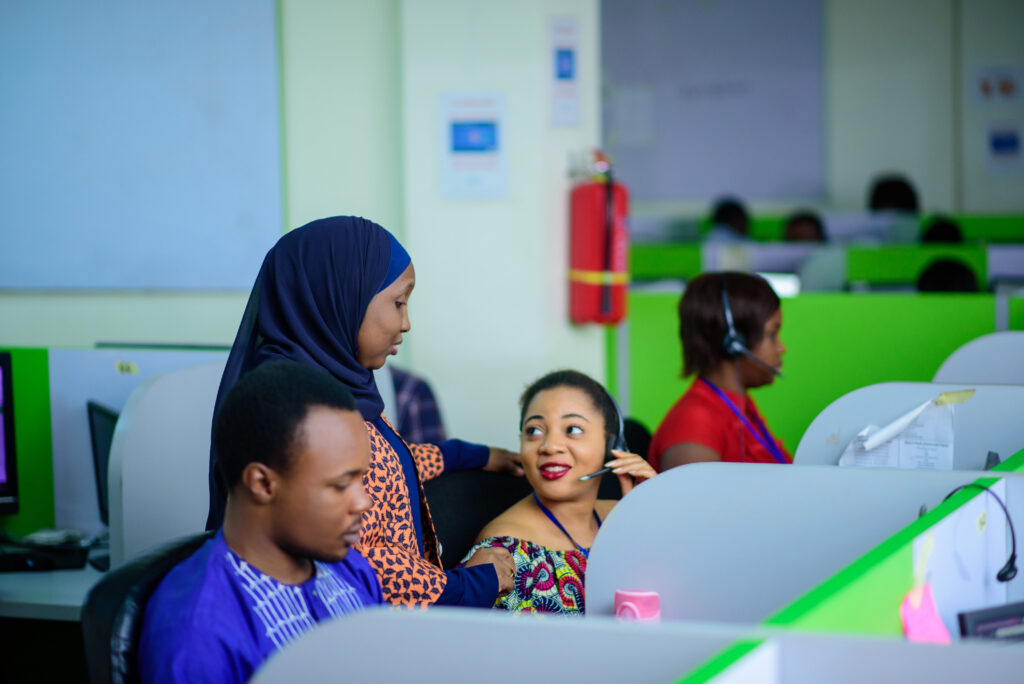 She begun this ambitious journey by setting up a contact center considering Nigeria's inherent advantages which include a high number of unemployed young graduates with technical skills, good proficiency in spoken English and a favorable time zone compared to other Outsourcing countries.
With job creation, Amal found she could tackle national problems such as unemployment by focusing on people-driven solutions to create job opportunities tailored to different professionals. She understood that in business, patience is a requirement. You cannot expect to have a tree full of fruit tomorrow if you just planted the seed today.
To be continued…